Relief for Syria
Since 2011, millions of Syrians have been displaced — it has forced many families to flee and seek safety from hostilities and bombings. Tens of thousands of Syrians have migrated closer to the Turkish border, only to find dreadful conditions due to overcrowding.
Baitussalam Welfare Trust has managed to provide foodshelterclothing to Syrian refugees.
We have provided warm clothes, shoes, baby diapers, bread, and toys. On 12th March 2019, Baitussalam shipped three containers of rice for the Syrian refugees. Besides necessities, Baitussalam Welfare Trust reconstructed two damaged masjids and built a bakery. Baitussalam bears the operational and maintenance costs of the bakery. We provided 30 ambulances for these grief-stricken victims. Baitussalam food aid distribution in Syrian camps works in collaboration with Turkish Welfare organizations.
Bread manufacturing plant
Bread has been a critical staple of the Syrian diet. Before the conflict, it was an inexpensive item consumed in every meal. To tackle the food insecurity that has unfolded during the Syrian crisis, Baitussalam Welfare Trust has installed a state-of-the-art bread plant imported from Germany with an estimated cost of 2.5 million dollars at the Turkey/Syrian border.
The bread plant has the capacity of producing
120,000
bread every day, and is utilized at its maximum capacity for the Syrian refugees. Baitussalam Welfare Trust bears the maintenance and operational costs of the bread manufacturing plant. Pakistani people contribute to all the raw materials required in producing bread.
During this exhausting and desperate time, bread accessibility helps provide many Syrian families with a sense of normalcy and stability.
Camps and Schools
There are currently three camps running under Baitussalam supervision,
CAMP SYEDA AISHA (R.A)
CAMP EMAN
CAMP ZAM ZAM
We are assisting thousands of displaced and vulnerable families with food baskets, medical care, seasonal fruits, and meat.
In 2019, we shipped
7,344
blankets to the Syrian Refugees for the upcoming winter season.
Baitussalam delegations have regular visits to oversee the construction of Baitussalam Village for our Syrian brothers'. In early 2019, the senior delegation of Baitussalam, Hazrat Maulana Abdul Sattar (DB) with the chancellor of Iqra University, Mr. Hunain Lakhani visited Aisha (R.A) camp.
The innocents injured and displaced due to the Syrian conflict, have a chance to primary education through global support. Earlier in 2019, a senior delegation under Mohammad Abdus Sattar(DB) visited students of "Abdülhamit School" in Qah Village. Children proudly displayed what they had learned to the Baitussalam team, They recited poems and welcomed the team with reverence.
Abdülhamit School is educating 500 students
Ebadur Rehman School is educating 300 students
In Eid ul Adha 2019, Baitussalam sacrificed 400 sheep. We distributed the meat from sacrificed animals among 3000 families. The Syrian refugees are always grateful and welcome the Baitussalam delegation visits with reverence. Regular camp visits and delegation trips in Syria have brought smiles to children's faces.
A 3-year-old message from Eman camp to the nation of Pakistan is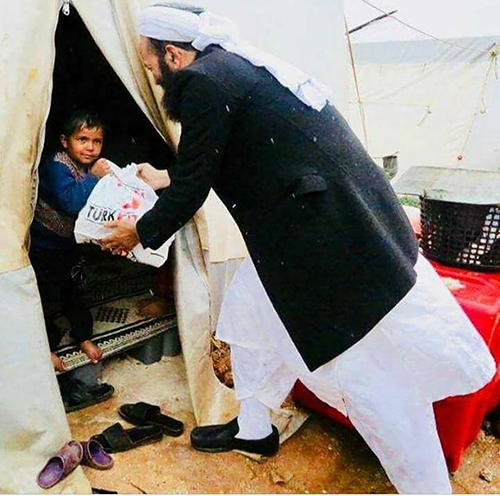 "To us,
you are
the best of
people."
Your donations show appreciation and are always welcome. You have the power to make someone happy, and help the innocents achieve their long-forgotten dreams.
We request the nation of Pakistan to come together to serve Baitussalam in helping the Syrian brothers, sisters, and children in the restoration of their lives.
With the ongoing support from Pakistani brothers and sisters, Baitussalam Welfare Trust continues to feed educate, provide shelter and medical aid to the displaced Syrians.
Ambulances and housing projects in Syria:
The Syrian conflict left communities with limited access to health care for extended periods. Our nation, Pakistan came together when it heard the pain and cries of the oppressed, and helped Baitussalam Welfare Trust achieve what once seemed impossible. We offloaded 30 state-of-the-art ambulances and gave medical supplies to the Syrian refugees.
In mid-July volunteers, doctors examined 600 orphan patients in one week. Millions of Syrians are homeless and in need of protection and humanitarian assistance. We have also conducted research and are constructing a Housing Society project called "Quryah Baitussalam", that will provide 120 houses for widows and orphans. Our projects have expanded in response to the needs of the repressed.